WE MEASURE CUSTOMER DECISIONS. THAT'S WHERE YOUR REVENUE COMES FROM
Do you have the power to continuously understand everyone's decisions, everywhere, as times and markets change?
With our conversation-based technology you can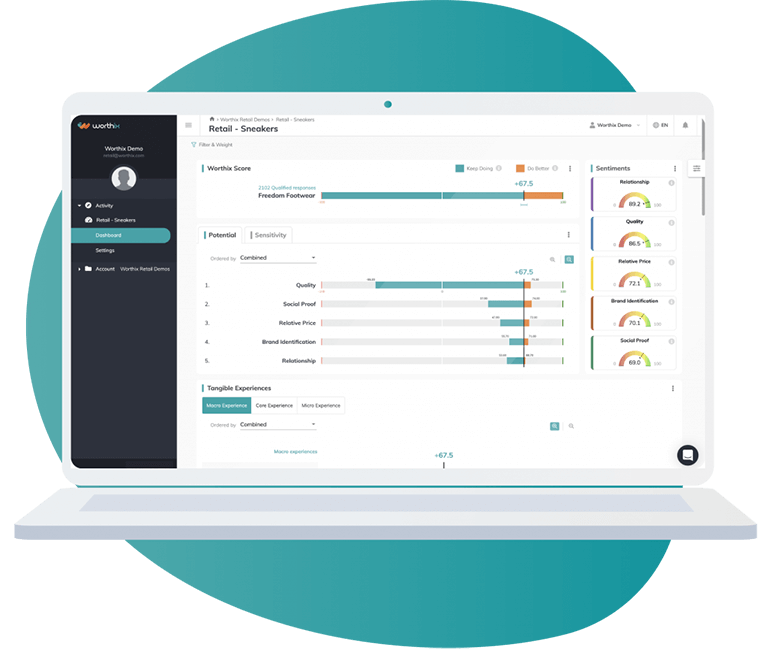 Conversations create empathy
Worthix allows you to have
unique
conversations with hundreds, thousands, or millions of customers, no matter how many locations or brands you have. This is what empathy at scale looks like.
Empathy gives you the ability to understand customer decisions
The decision is when the money flows – and it is the core of your revenue.  
Worthix deep dives into each conversation and extracts the exact experiences that drive customer decisions. It's like an all-access pass into your customers' decision-making processes.  
A CONVERSATIONAL A.I. PLATFORM THAT COMBINES EMPATHY AT SCALE AND INTELLIGENCE TO INVEST
Prioritize investments based on return. Worthix gives you a roadmap to deliver on customer expectations every time, everywhere.  
Leading through empathy has always been the foundation of success. Now it is possible at scale.   
"I was truly impressed with the x-ray Worthix was able to provide. It was the first technology to give us very actionable insights to precisely create unique experiences for our different audiences immediately boosting the loyalty of our buyers and sellers."
"On our first Worthix survey we were able to increase our response rates by 300% and increase our data confidence level to 96.4%. In our previous methodologies we were always flooded with the same results without knowing what was really impacting our attendees' experiences. Worthix results were impressively accurate and we never even had to design a survey."
"What makes us excited about Worthix is what they call hot data. FICO always worked with historical data, credit card data, product data; all cold data. We have models on cold data. We can use Worthix as a hot data source."
"Worthix provided us with an intelligent analysis that delivered concrete and actionable opportunities by means of a simple, high engagement questionnaire."
"Results from our first experience with Worthix were so insightful that we decided to grow our collaboration. The findings are helping us build our next years' strategy focused on what our consumers expect from us to improve or do more."
"We are very pleased to have Worthix as our first research partner. Now we have our delicious, environmentally conscious chocolate alongside Customer Decision Intelligence which allows us to understand our customers' needs in a rapid and precise manner."
"Innovating with Worthix brought another level of obtaining the customer's real voice. We have managed to evolve substantially by capturing the perceived value of our interactions, using real-time answers to direct questions based on what customers want to say - and DECIDE."
"The highlight of Worthix's technology was discovering our consumers' personalities. The ones that buy our product differ from the ones who buy from our competition, which proves that we have a competitive advantage. The methodology also helped uncover important information regarding our product, as well as pointing out the strong points and weaknesses of the competition. It has been used as a valuable building tool for our communication strategy."
Evolve into Conversation-based
Customer Decision Intelligence
THERE'S A REASON MARKET LEADERS ARE MOVING TO WORTHIX​